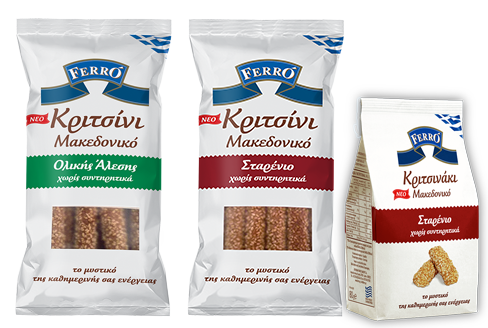 Macedonian Breadsticks
The Macedonian tradition meets FERRO ' expertise and taste lifts of! Who can keep the original recipe alive? The name that has invested in a state of the art production unit and the expertise that makes the tradition ... to hold and bolt well. FERRO' Macedonian breadsticks with golden sesame of superior quality. Roasted and crispy, rich in iron and fiber, hide the purity of a bygone era deep in their heart!
Macedonian Wheat Breadsticks
What is missing from the Wheat Macedonian breadsticks? Only preservatives and Trans Fats. They are a natural source of iron, a rich source of fiber with unsurpassed taste of Greece. Who said that delicious can not be nutritious?  FERRO' can do it for you!
Macedonian Breadsticks WholeGrain

Total recall back to traditional Mediterranean diet! In wholegrain Macedonian breadsticks, the original recipe of tradition meets unedited full flavor of ground cereals to the maxim and, together with the golden sesame seeds, give the flavor of nutritional superiority that our customers deserve. Fiber helps in the smooth functioning of the digestive system iron ensures the supply of oxygen throughout the body, whereas sesame offers antioxidants and omega-3 fatty acids as a perfect dress for our FERRO' Macedonian breadsticks!